Calvary Mortuary : Los Angeles, California (CA)
Funeral home at 4201 Whittier Boulevard, Los Angeles, CA 90023
Calvary Mortuary | provides complete funeral services to the local community.
---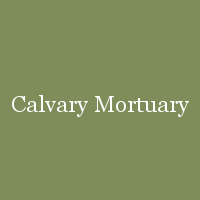 Calvary Mortuary contacts
Calvary Mortuary rating
★ ☆ ☆ ☆ ☆ (1 reviews)
How would you rate Calvary Mortuary?
☆
☆
☆
☆
☆
Vacancy Calvary Mortuary (jobs):
Coming soon
Advertisement
Make a Donation to help this Funeral home website!
Your donation will help further our mission to share information about Calvary Mortuary on site alluschurches.com and add services for the Funeral home. Your donation will also help humanitarian services and coronavirus pandemic aid.

Last reviews about Calvary Mortuary
in Los Angeles, CA
Add your review. Your feedback helps to get feedback and an honest opinion about the Calvary Mortuary.
Thanks to the reviews, people get the knowledge of mistakes or warmth and delight of gratitude.
★ ☆ ☆ ☆ ☆

I have my grandfather on Hospice care. I called this facility twice last week and spoke with the same representative. I advised her that my grandfather had prepaid his services there with them years ago. I provided his name and all the information I had. I was advised that they did not have any record of his prepaid service nor of my grandmas mortuary service we had with them 14 years ago. I called back twice and was told the same thing. I begged them for their help and was given " I already spoke with you yesterday we don't have your grandfather listed here." Finally I found papers from 17 years ago receipts confirming the prepayment of services arranged in good faith with Calvary and my grandfather. I called Calvary and giving them only my grandfathers name no more than the information I provided them last week I told them " I have documentation confirming prepayment of services when can i set an appointment to bring this documentation to you." They advised they would call me back and the moment they called me back they confirmed that my grandfather did prepay his services. What was different then from when I called last week? I have never felt more shammed. their unwillingness to help and be so cold to a family in their moment of need and in this business is cruel. I hope when my grandfathers time does come and we have the services at Calvary we have a more professional and empathetic experience. I spoke with the director of the facility and as kind as helpful as she was trying to rectify the situation does not undue to stress her staff and facility put us through.

Added July 06, 2017 by Bianca B. Gonzalez
How would you rate Calvary Mortuary?
☆
☆
☆
☆
☆
Calvary Mortuary website info
Website address: calvarymortuary.com
Website title: Calvary Mortuary : Los Angeles, California (CA)
Website description: Calvary Mortuary | provides complete funeral services to the local community.