Fukui Mortuary : Los Angeles, California (CA)
Funeral home at 707 East Temple Street, Los Angeles, CA 90012
Fukui Mortuary: Fukui is Tradition
---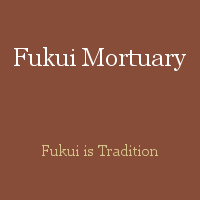 Fukui Mortuary Inc contacts
Fukui Mortuary Inc rating
★ ★ ★ ★ ★ (1 reviews)
How would you rate Fukui Mortuary Inc?
☆
☆
☆
☆
☆
Working hours of
Fukui Mortuary Inc
Open now.
Today: Open 24 Hours
| | |
| --- | --- |
| Sunday | 12:00 am - 11:59 pm |
| Monday | 12:00 am - 11:59 pm |
| Tuesday | 12:00 am - 11:59 pm |
| Wednesday | 12:00 am - 11:59 pm |
| Thursday | 12:00 am - 11:59 pm |
| Friday | 12:00 am - 11:59 pm |
| Saturday | 12:00 am - 11:59 pm |
Vacancy Fukui Mortuary Inc (jobs):
Coming soon
Advertisement
Fukui Mortuary Inc photos
Make a Donation to help this Funeral home website!
Your donation will help further our mission to share information about Fukui Mortuary Inc on site alluschurches.com and add services for the Funeral home. Your donation will also help humanitarian services and coronavirus pandemic aid.

Last reviews about Fukui Mortuary Inc
in Los Angeles, CA
Add your review. Your feedback helps to get feedback and an honest opinion about the Fukui Mortuary Inc.
Thanks to the reviews, people get the knowledge of mistakes or warmth and delight of gratitude.
★ ★ ★ ★ ★

Waited for long time to post a tribute to David Kikuchi; the server to get onto the website took over 1/2 hour and sill has not allowed me to post a tribute to him; please get a better/faster server company to allow posts to our passed friends memory.
The only time I attended a funeral there was for my late uncle Hideo Kawase and that was a long time ago.
Leaving a message for our long passed relatives and friends is important to us who still live and wish to memorialize our remembrances to our closest friends and relatives.
Thank you for allowing this suggestion to your website.
David Kikuchi was my friend and my condolences to his family and his wonderful wife of over 30 years.
I only wish that could have gotten on to David's official obituary
site to leave my sentiments there.
Respectully,
Brian Watanabe

Added March 25, 2017 by Nathan Brian Watanabe
How would you rate Fukui Mortuary Inc?
☆
☆
☆
☆
☆
Fukui Mortuary Inc website info
Website address: fukuimortuary.com
Website title: Fukui Mortuary : Los Angeles, California (CA)
Website description: Fukui Mortuary: Fukui is Tradition